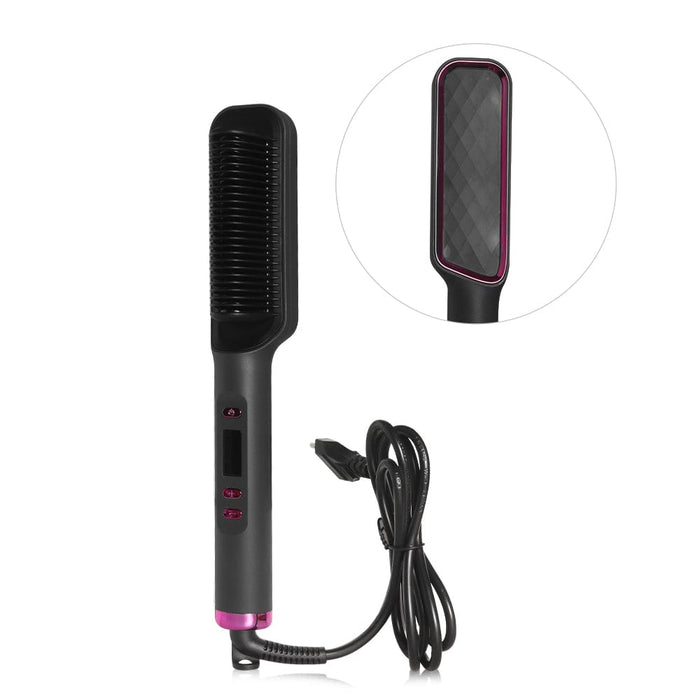 SmoothStyle Electric Professional Comb
Save

$30.00
Save

$30.00
Original price
$75.00
-
Original price
$75.00
Discover the SmoothStyle Electric Professional Comb: Achieve Silky, Straight Hair Without Damage

Tired of struggling with ineffective heat styling tools that damage your hair? Say hello to the SmoothStyle Electric Professional Comb - the ultimate solution for sleek, smooth hair without the hassle.
Top Benefits:
Gorgeous, healthy hair: Enjoy straight, silky hair that's easy to manage, even in harsh Canadian winters, thanks to SmoothStyle.
Fight frizz, split ends, and tangles: Our advanced PTC technology straightens hair without causing damage, leaving it frizz-free, split-end free, and knot-free.
Ideal for all hair types: Whether your hair is soft, thin, thick, curly, or even facial hair, SmoothStyle's innovative design gives you the smooth, frizz-free look you've always wanted.
User-friendly: Achieve fast and effective results with a simple brushing motion, making SmoothStyle perfect for busy Canadians on-the-go.
Safety first: Featuring an anti-scald shell and automatic shut-off function, SmoothStyle ensures safety and convenience.
Limited-Time Offers:
Save 50%: For a limited time, enjoy a 50% discount on SmoothStyle and achieve salon-quality results without breaking the bank.
BUY 3, GET 1 FREE: Add four items to your cart and the discount will apply automatically.
Why SmoothStyle is Your Best Choice:
Straighten hair without damage or harsh chemicals.
Quick and easy to use - perfect for busy Canadians.
Designed for safety and convenience with an automatic shut-off function and anti-scald shell.
What's Included:
1 × SmoothStyle Electric Professional Comb (Material: PTC+ABS; Color: White, Black; Voltage: 220V; Power: 45W; Weight: 378g/0.83lb)
FAQ:
Can I use SmoothStyle on wet hair? No, it works like a flat iron but with the convenience of comb-like "teeth."
Is it normal for SmoothStyle to produce smoke? No, smoking is not a typical experience with SmoothStyle.
How does SmoothStyle compare to a regular hair straightener in terms of speed? When used on small sections of hair, it's just as quick. Plus, the included glove helps protect your fingers from burns.
Will SmoothStyle work on my long, thick, curly hair? Absolutely! It's perfect for all hair types, including long, thick, curly hair.
More Perks:
Perfect for busy lifestyles: SmoothStyle's fast results and easy-to-use design help you achieve a professional look in just minutes.
Versatile styling: Ideal for short, long, straight, or curly hair, SmoothStyle helps you achieve a sleek, smooth look without damage.
Safety and convenience: With an anti-scald shell and automatic shut-off, SmoothStyle puts your safety first.
Fabulous gift idea: SmoothStyle's high-quality design and professional results make it a great gift for friends and family.
Don't miss out on this incredible offer! Order now and experience the benefits of the SmoothStyle Electric Professional Comb for yourself. With its cutting-edge technology, user-friendly design, and affordable price, it's the perfect solution for achieving healthy, smooth, and beautiful-looking hair. Transform your hair game today!