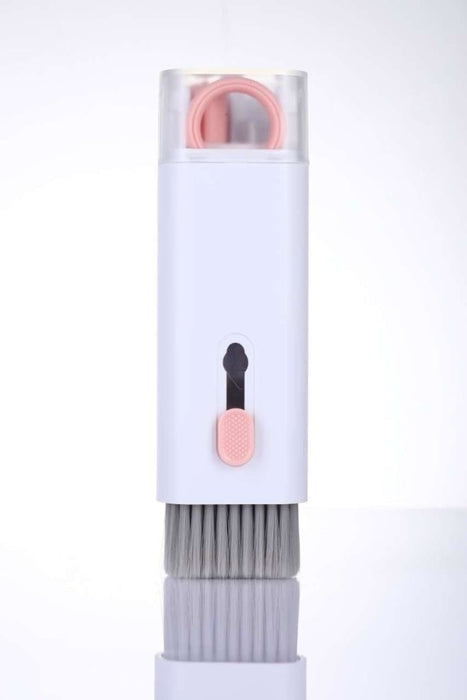 CleanTech Multi-Function Cleaner Kit for Laptops, Earbuds, and Electronics
Save

$1.00
Save

$1.00
Original price
$30.00
-
Original price
$30.00
 Presenting the CleanTech Multi-Function Cleaner Kit: The Ultimate Cleaning Solution for All Your Tech Devices
Keep your laptops, earbuds, and electronics in top-notch condition with the CleanTech Multi-Function Cleaner Kit. This high-quality, versatile, and easy-to-use kit ensures your devices stay clean, boosting their performance and lifespan.
🌟 Outstanding Features:
All-Inclusive Cleaning Kit: This comprehensive kit features a retractable keyboard brush, Airpod cleaner pen with silicone and plastic nips, flocking sponge and brush, screen cleaner solution spray, key puller, and soft plush glasses clean cloth.

Effortless Cleaning:

Each specially designed tool targets different surfaces, such as deep holes, flat surfaces, and screens, making your cleaning experience efficient and hassle-free.

Ultimate Portability:

Compact and easy to carry, the CleanTech kit is perfect for on-the-go cleaning, becoming an indispensable accessory for maintaining all your tech devices.

Rave Reviews:

Satisfied customers agree that CleanTech is a game-changer, offering the best all-in-one cleaning solution for their beloved gadgets.
Enjoy our CleanTech Multi-Function Cleaner Kit anywhere. Plus, take advantage of our exclusive Buy 3, Get 1 Free deal! Add four items to your cart, and the discount will automatically apply.
🌟 Simple Steps to Sparkling Devices:
Airpod Cleaner Pen: Use the silicone nip to gently remove dirt and dust from your AirPods' crevices and corners. The plastic nip tackles stubborn dirt, while the flocking sponge and brush clean the outer surface of the AirPods.
Retractable Brush and Key Remover: Effortlessly clean flat surfaces like keyboards and desktops with the high-density brush. Use the key puller to remove keycaps and clean the bottom of the keyboard.
Screen Cleaner Mist and Microfiber Cloth: Spray the cleaning solution onto the microfiber cloth and gently wipe the screen or glass surface of your electronic devices to remove fingerprints and oil smudges.

Double Head Foldable Cleaning Pen:

The silicone and plastic nip clean sticky and tough dirt hidden in cracks and holes. The plush brush expertly cleans dust on acoustic mesh, shallow holes, and cracks, while the charging hole cleaning brush eliminates dust and dirt in deep holes.
🌟 Customer Testimonial:
"The CleanTech cleaning kit is a game-changer! It has everything I need to keep my devices clean and functioning at their best. The compact size makes it easy to carry around, and the various tools and accessories are perfect for cleaning all types of electronic devices." - Sarah, UK (Find more reviews in the review section)
Invest in the CleanTech Multi-Function Cleaner Kit today and discover the difference of the ultimate all-in-one cleaning solution for your tech devices.